Over the Weekend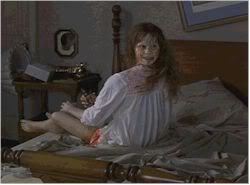 If I were not a complete lunatic, I would have made use of the holiday weekend by oh -I don't know - getting out of the house. But, as it were and as it was, it was raining and there was no motivation on my part to do much more than watch bad TV in my Ugg boots and sweats. My girlfriends invited me to go to Boston with them, but quite frankly, my mind is starting to mess with me and I thought that the fact that I'm completely preoccupied with this John thing would have ruined their time. Plus, I don't have money to go blow in Boston. The money situation doesn't help my mental one at all.
So, what's the John thing? That's a good question. There really isn't a John thing. We went out last Thursday, it was great. He said he'd be gone over the weekend, but still I was kind of hoping he'd call me or text me before he left. Maybe even during, just to say hi. The John thing though - that's something I've created in my head. I tend to do this.
My thoughts (admittedly psychotic ones), were thus:
-Isn't a boyfriend supposed to be in contact on a regular basis?
-Well, maybe he's not in contact with me because he doesn't consider me his girlfriend.
-I'm not good enough.
-Self, shut up. You're driving yourself crazy.
[Note the contempt in my head]
-How can you expect him to commit to you after 1 and 1/2 dates? Someone would have to be insane to make such an important decision after so little time...But then again, I would do it, so I guess I am insane.
-Okay, nobody knows that I'm having these thoughts besides me. As long as I don't show him I'm freaking out, he'll never know.
Maybe he can sense it though. How could he not?
-Maybe he wants to call me, but he's not doing it because he's playing games.
-But guys are cooler than that. If they want to call, they just do it.
-He could be totally into me and not want to freak me out. No.
-I wonder if he's hooking up with other girls?
-Is he even thinking about me?
-He's definitely not sitting around doing this.
And there were tons of other thoughts similar to these. All raving mad thoughts, which I've convinced myself are normal; convinced myself that all girls share the same anxieties. Except that mine are like a conversation between two people and that can't be normal. It's as if I have a rational side and an irrational side that constantly argue with one another. Somehow the irrational side always wins though.
I know a lot of you read this blog because I talk about the mental complexities that go along with my condition, so sorry that I don't have much to report about that today. I just needed to vent. I feel better now that I'm back at work. This fact, above anything else I've mentioned, speaks volumes about my current state because I hate my job. Hate, in fact, is an understatement. The thing that's bugging me the worst right now is that I know my happiness is dependent on his call. I have to figure out how to get to that point on my own. Now that I've put this down on "paper," I am starting to feel a little better. I guess what they say is true: Admitting that you have a problem is the first part to solving it. Or, something like that...